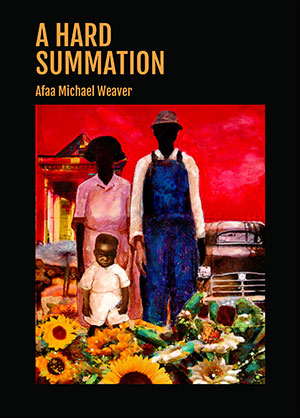 cover design by Lila Khan
cover art by Najee Dorsey
"When the Family Moved to New Orleans"
A Hard Summation
$11.00
5 x 7 | 44 pages | Poetry
ISBN 978-1-941604-00-7

Publication Date: July 2014
A HARD SUMMATION is a suite of 13 new poems, covering the history of African Americans from the Middle Passage to Now. Like a rite of passage, struggle has been unyielding and synonymous with the black experience in America. In this rich compilation, Weaver unearths a genealogical deficit that permeates through generations. But in this collection, you won't hear the poems cry foul or attempt to appease friend or offend foe. Its intention is hardly to be conclusive.  When you add it all up, A HARD SUMMATION offers us an opportunity to listen, celebrate, commemorate, and appreciate the successes and failures of the past in order to develop a current and contextual understanding of what it means to be Black and American.
Don't forget to BOGO: Buy One for yourself and Grab One for a friend :)

about the author


Photo Credit: Rachel Eliza Griffiths
Afaa M. Weaver did his graduate work in creative writing at Brown University after fifteen years as a factory worker in his native Baltimore. His awards in poetry include three Pushcarts and the Kingsley Tufts Award. In playwriting he received the PDI award from ETA Creative Arts Foundation. He teaches at Simmons College and in Drew University's MFA program. His official website is: www.afaaweaver.net