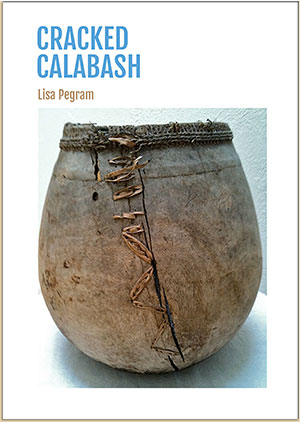 cover design by Enzo Silon Surin
cover picture by Rec-collections
"19th Century Hawaiian Calabash Medicine Bowl"
Cracked Calabash
$11.00
5 x 7 | 42 pages | Poetry
ISBN 978-1-941604-01-4

Publication Date: June 2015
CRACKED CALABASH is a vessel of 13 poems that contemplates personal identity in the context of healing and self-love. At its core, this collection is rooted in the notion that there is wisdom and even joy to be found in the places where we are broken and put back together again. Similarly, Kintsukuroi, "to repair with gold", is the Japanese art of repairing pottery in the spirit that it is more beautiful for having been broken. The title was inspired by the ancient tradition of using the calabash as a vessel and, when it inevitably cracks, making an art of the mending.
Don't forget to BOGO: Buy One for yourself and Grab One for a friend :)

about the author

LISA PEGRAM is a DC native poet, essayist and author of the chapbook, Cracked Calabash (Central Square Press, 2015.) Her work has been published by Random House, Black Classic Press, Poets.org, The Independent film magazine, and L'Officiel, India, among others. She has over 15 years of experience facilitating high-level arts programming for organizations such as the Smithsonian Institute and National Geographic. Her poetry has been set to classical music and performed at Georgetown University, Haverford College, Columbia University and St. Matthew's Cathedral.
Awards include: DC Mayor's Arts Award "Outstanding Emerging Artist", Larry Neal Writer's Award Finalist and International Women's Conference Co-Chair. She completed her MFA in 2012 and is currently based in Curacao where she is a writing professor and a personal chef. Her official website is: ladypcoq.wordpress.com
PRAISES FOR CRACKED CALABASH
In these lush poems, Lisa Pegram presents a world in which one may pursue le bon vie without eschewing one's own cultural or political conscience. Cracked Calabash navigates the rough terrain between memory and foresight, between lyric and narrative, and at each point calls to mind the compression and wisdom of such giants as Lucille Clifton and Gwendolyn Brooks. Like the sho 'nuff chef, the kitchen magician that she be, Lisa Pegram is serving up some serious flavor. -John Murillo, Author of Up Jump the Boogie
Deliciously rich in sensuous detail that often slides into metaphor, Cracked Calabash keeps surprising, poem after poem. Using a variety of poetic strategies, Lisa Pegram confronts issues of gender and race, celebrating both women and brownness ("I'm brown, like the husk of a coconut / or a well seasoned calabash)." This filled-to-the-brim little book will delight your palate, even as it offers unforgettable bite. " -Martha Collins, Author of Day Unto Day