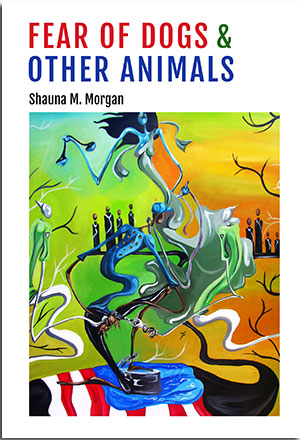 Cover design: Enzo Silon Surin
Cover art: "Amerikkkan Terrorist" © Jason "JaFleu" Fleurant
Fear of Dogs & Other Animals
$11.00
5 x 7 | 42 pages | Poetry
ISBN 978-1-941604-03-8

Publication Date: December 2016
FEAR OF DOGS & OTHER ANIMALS is a collection for the thirteenth hour, when the day or journey is seemingly half-over and a much needed respite is eminent but is never fully actualized. For those of African descent, the walk home often feels like the day has only just begun. Shauna M. Morgan offers 13 heartrending poems that take us down familiar roads at a time when headlines about advances in race relations contradict the realities of the black experience. These poems should not have been necessary but they are, being both timely and timeless in the way they boldly explore the forgotten spaces we are sometimes reluctant to tread.
Don't forget to BOGO: Buy One for yourself and Grab One for a friend :)

about the author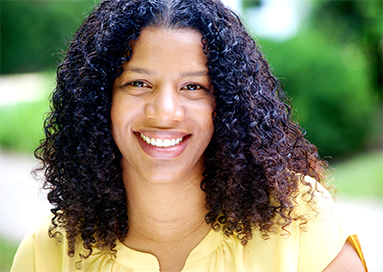 SHAUNA M. MORGAN | photo credit: Patrick J. Mitchell
A poet and scholar, Shauna M. Morgan springs from a rural district in Clarendon, Jamaica and holds an enduring love for the Diaspora about which she writes. She has published scholarly works in Bulletin of the School of Oriental and African Studies, Journal of Postcolonial Writing, and South Atlantic Review. Her poetry has appeared in ProudFlesh: New Afrikan Journal of Culture, Politics & Consciousness, The Pierian, Pluck! The Journal of Affrilachian Arts & Culture, Anthology of Appalachian Writers Volume VI, Interviewing the Caribbean and elsewhere. Morgan researches and teaches literature of Africa and the African Diaspora at Howard University in Washington, D.C., and she lives in Virginia with her twin daughters.
PRAISE FOR FEAR OF DOGS & OTHER ANIMALS
There is poetry so necessary, so essential to our living that it becomes bread or air or water. Fear of Dogs and Other Animals is this type of work. Clear, precise, and unflinching, Shauna M. Morgan has written a holy river for her readers, a space we can immerse ourselves to be held, seen, and cleansed. These poems are the undammed saltwater from our eyes, the droplets between straining shoulder blades, the steaming cup of a potion that makes your dreams lucid or brings the fever down. These poems are strong enough to wear away stones. This is the voice I have been waiting for. Welcome it.