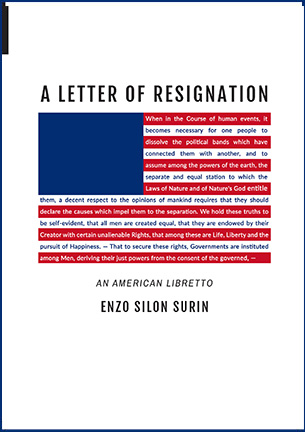 click to enlarge
Cover design & Cover art: "We Believed These Truths" by Enzo Silon Surin
A Letter of Resignation
$11.00
5 x 7 | 50 pages | Poetry
ISBN 978-1-941604-04-5

Publication Date: April 2017
A LETTER OF RESIGNATION is a meditation on American history informed by the Black experience in the United States and neighboring island republics. This musically-infused libretto is addressed to History as a Republic, in which certain moments and individuals have been vetted and elected to convey a message that consistently denigrates more than it celebrates what it is to be American Black. Part Blues, part Jazz, part Hip-Hop, this book-length poem is a sound declaration from a tired, fed-up and "woke" generation.
Don't forget to BOGO: Buy One for yourself and Grab One for a friend :)

about the author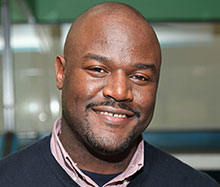 photo credit: Kenny Chung
Enzo Silon Surin is a Haitian-born poet, educator, publisher and social advocate. He is the author of two chapbooks, A Letter of Resignation (2017) and Higher Ground (2006), which was nominated for the Massachusetts Book Award. He is also co-author of The Next Verse Poets Mixtape - Volume One: the 4 X 4 (2016) and has been featured in African Voices, Interviewing the Caribbean, Pangyrus, jubilat, Soundings East, The BreakBeat Poets: New American Poetry in the Age of Hip-Hop, Naugatuck River Review, sx salon, and Tidal Basin Review, among others. His manuscript, When My Body Was a Clinched Fist, was selected as a semi-finalist for the 2015 Philip Levine Poetry Book Prize.

Surin, a Pushcart nominee, was also recognized as the 2015 PEN New England Celebrated New Voice in Poetry and holds an MFA in Creative Writing from Lesley University. Surin is Associate Professor of English at Bunker Hill Community College. For more information, visit enzosurinink.org
PRAISES FOR A LETTER OF RESIGNATION
"In A Letter of Resignation, Enzo Silon Surin has crafted a poetic composition that laments both the historic and contemporary 'matterless' nature of black lives in America. It is a masterpiece. Much like James Baldwin before him, Surin's gripping work is equal parts a catalog of black suffering and a bold declaration of independence from the tyranny of racism. In a time in the United States when injustice is a bully with a Goliath-like roar, Surin answers back with poetic stones of resistance. That act of courage is nothing to take lightly. Neither is this superbly written book." -Truth Thomas, Author of SPEAK WATER
"Inspired by such heroic voices as Martinique's Aimé Césaire, Enzo Silon Surin brings his Haitian roots to bear on the landscape of America in an epic sweep of incantatory rhythms evoking the enduring spirit of the African Diaspora. The immediacy of his poetry is grounded in his sense of history, as twenty-first century black immigrants come to the U.S. to negotiate race and culture. They are the new African Americans whose histories now meet that of the first African Americans in a hybridity that goes unarticulated until we see this kind of poetry. A Letter of Resignation is a remarkable feat." -Afaa Michael Weaver, Author of SPIRIT BOXING